---
Tammy Forgue Memorial 5K Walk Run Festival ~ April 21, 2018
Thank you for helping us reach our goals!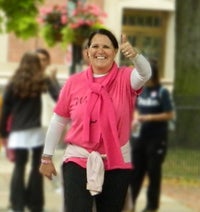 Wright's Farm Restaurant would like to thank all our participants, corporate sponsors and event day volunteers for generously supporting The First Annual Tammy Forgue Memorial Walk/Run Festival on Saturday, April 21, 2018. With the help of more than 400 race registrations, individual donations and corporate sponsors (listed below) the event raised more than $18,000 for Making Strides Against Breast Cancer Providence.
Corporate Sponsors: Carla / Nancy B, Carl and Mary Ann Lisa Family Charitable Fund, Cayer Caccia LLP, Dogfish Head c/o Rhode Island Distributing, HPC Food Service, J.H. Lynch & Sons, Inc., Lanmar Corporation, McLaughlin & Moran, Inc., N & D Transportation, Pepsi Beverages Company, Rhode Island Medical Imaging, Wonderwall Construction Inc, and Thomsen Foodservice.
In addition, we would like to thank the Burrillville Fire Departments, Sparky the fire dog, our face painters: Kiannah Koprusak and Raschel Aubin, Cat Country 98.1, Amanda Leonardo, Jake the Cat, the Cat Country Team and Courtenay Dubois Needham from Making Strides for rounding out the day!
A special thank you to our race coordinator: Gary Minissian from Ocean state multisport for organizing and running the race.
To see photos from the day please visit our facebook page