---
Tammy Forgue Memorial 5K Walk Run Festival ~ April 21, 2018

On Saturday, April 21st, Wright's Farm will host the First Annual Tammy Forgue Memorial Walk/Run Festival. Participants are invited to register for a timed 5-mile or 5K course that winds through scenic Burrillville before culminating in a delicious family-style chicken dinner at Wright's. All proceeds will go to Making Strides Against Breast Cancer of Providence, to raise awareness and funds to help save those affected by breast cancer.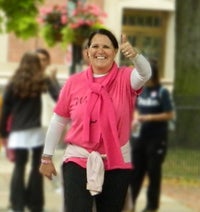 The festival honors my sister, Tammy, who bravely lost her battle with breast cancer in 2016.While her loss has been unimaginable, our family has found solace in helping others who live with this devastating disease and wake up every morning ready to face the day's challenges.
Wright's Farm has spent the last 46 years building its foundation as a gathering spot for family and friends to come together to celebrate all the milestones in life; to slow down and treasure the small moments, like breaking bread together over Sunday dinner. We are proud to be such a vital part of our community and enjoy giving back to myriad causes and organizations whose missions are to better the lives of our neighbors in need.
I hope you will consider joining this year's First Annual Tammy Forgue Memorial Walk/Run Festival.
If you can't run or walk in the event and would still like to donate, every dollar contributed will go directly to Making Strides Against Breast Cancer and is 100% tax deductible.

I thank you in advance for your support.
~ Frank Galleshaw III