Why Family Style Dining?
The reason is clear, food served family-style brings people together in a way unlike any other. The old-fashioned method of passing food around the table reminds people of a time where they may have done something similar in their own homes, filling their hearts as well as their bellies.
At Wright's Farm we cater to both small and large groups. Every party is seated at their own table, served their own platters, offering a sense of connection and belonging to family and friends.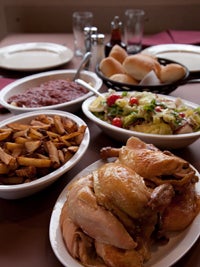 Wright's Farm is "Good Food for Good Times, Family Style".
In our dining rooms, you will experience a casual family friendly atmosphere. Our parking is ample, and we are wheelchair accessible. Reservations are not necessary; however, we do accept reservations for parties of 10 or more. If you have children 10 years and under be sure to ask your server about our children's price. View our dine in menu and prices.
PAYMENT POLICY: We do not offer separate checks. We allow you to pay your check with 2 separate Credit Cards and/or cash if you would like.
POLICY ON REFILLS: We allow refills at no additional charge while dining with us. Only unfinished portions of your FIRST serving may be taken home.