Why Family Style Dining?
The reason is clear, food served family-style brings people together in a way unlike any other. The old-fashioned method of passing food around the table reminds people of a time where they may have done something similar in their own homes, filling their hearts as well as their bellies.
At Wright's Farm we cater to both small and large groups. Every party is seated at their own table, served their own platters, offering a sense of connection and belonging to family and friends.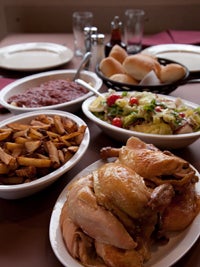 Are You Planning an Event?
If you are searching for a wedding venue in Northern Rhode Island or are looking for a place to host the perfect party or meeting look no further! At Wright's, we offer large group reservations, semi-private VIP areas and private functions.
Our location and experience make it an ideal event venue for weddings, parties, meetings, fundraisers and much more. We are centrally located in Southern New England: 19 Miles from Providence | 25 Miles from Worcester | 58 Miles from Boston | 66 Miles from Hartford.
Learn more about our Weddings & Banquets >>
Holiday Hours
Contact|Reservations
Gluten Free